Twin commercial style home kitchen deep fryer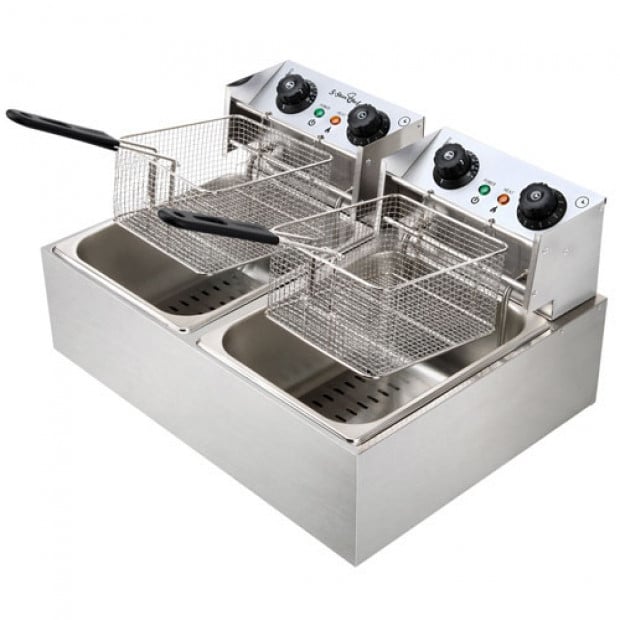 5 Star Chef Deep Fryer w/ Twin Basket
This Premium 5-Star Chef deep fryer will lend you a helping hand in achieving a perfect crisp for your dishes.
It has features which include power-saving auto thermostat, hinged removable oil-heating plate, quick-heat function, and non-slip rubber feet.
The 5-Star Chef deep fryer is a perfect appliance anyone would love to have in their kitchen. This 5-Star chef deep fryer has a double frying compartments with individual temperature control function, allowing you to cook your food at your own desire
Buy this Premium deep fryer today and surprise your family and friends with your excellent cooking skills!
Features
Double basket electric fryer
Quick-heat function
Power-saving auto thermostat
Food fry temperature setting
Stainless steel body
Hinged removable oil-heating plate
Non-slip rubber feet
Twin food baskets with heat proof handles
Operate a single or double fryer
Fryer cover lids
SAA certified
Specifications
Voltage: 240V/50Hz
Australian 15A plug (non-standard 15A wall outlet socket required)
Power: 2500W x 2
Basket capacity: 10L x 2
Oil fill capacity: 7L x 2
Temperature range: 60-200c
Cooking timer settings: up to 60mins
Dimensions: 62 x 41.5 x 30cm
Colour: Silver
Package Contents
1 x Deep Fryer
2 x Fry Baskets
1 x User Manual
product code:3_fryd4c-2