Samson Heavy Duty Caravan Cover 14-16ft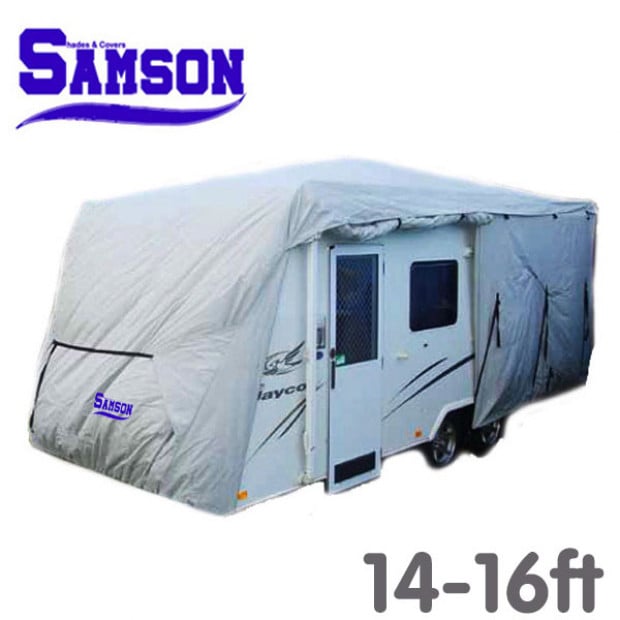 $0

today,

0%

interest

Buy now. Pay smarter.

or 4 x

$

39.75
Samson Heavy Duty 3 Layer Waterproof 14-16ft Caravan Cover
This cover will pay for itself in no time by protecting your investment and maximising your caravan's resale value.
The outer super-reflective coating is designed to protect your caravan or camper from the harsh Australian elements, keep your caravan looking like the day you bought it !
Don't be mistaken into purchasing cheaper - inferior covers which will disintegrate in the hot Australian climate soon after you install them on your caravan/camper.
The above covers are manufactured specifically to endure the harsh Australian sun, and also withstand the heavy rainfalls in some of our nation's regions.
These caravan covers not only offer the highest protection, but are also matched with the greatest array of features, to make the covers as customizable as possible to the various dimensions and designs of our local caravans and campers. No other cover on the; Australian market compares - from front and rear tension panels, to the 30cm adjustable height straps, all the way to the triple zipper enhanced access feature.

All this in conjunction with a non-woven triple layer polypropylene, providing a waterproof and breathable environment for your home away from home.

All our items are in stock in Australia so we all have this sent out to quickly by Australia-Post registered delivery.


Features:
Triple Zip System for Easier Access
Heavy Duty Non-Woven Polypropylene
Shade of material may vary subject to production run
Front & Rear Tension Panels for Enhanced Fit
Velcro Style Hook & Loop System on the inside & outside
Adjustable Height System
Waterproof & UV Treated
Windproof & Acid Rain Protection
Elasticized Hem for Customised Fit
Underbody Mounting Straps & Clips
Carry/Storage Bag
Size 14-16ft (503 x 240 x 218cm)

Includes:
1 x Caravan cover
1 x Carry / storage bag



product code:cov-sam-cvan-1416

CUSTOMER PRODUCT REVIEWS
GU
Good product but a bit difficult to install
ST
Great product great service I thank you very much
RH
Great communication from the seller highly rated
RO
Great service, fast delivery, defiantly shop here again. AAA+