Trampoline Replacement Spring Mat - Rainbow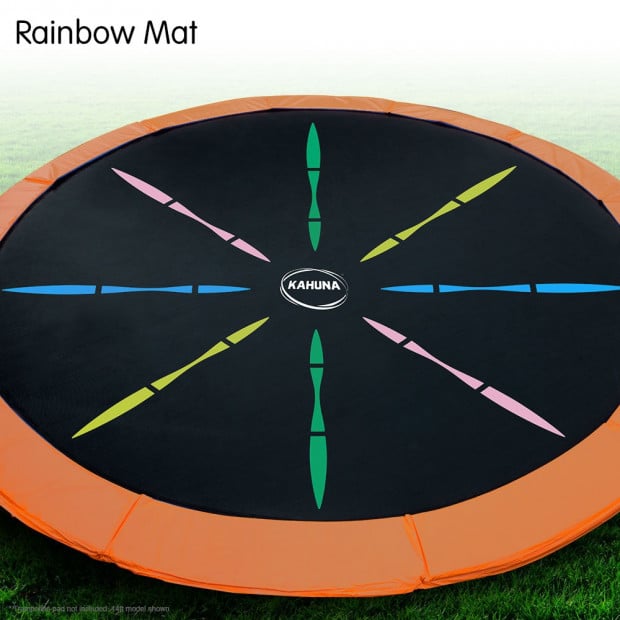 $0

today,

0%

interest

Buy now. Pay smarter.

or 4 x

$

19.75
Note: This replacement trampoline mat is for the Kahuna Classic, Pro, and round Rainbow models only. It is not suitable for the Twister, Rectangular, Oval, or Blizzard models.
Let your kids jump, hop, and bounce for hours on this replacement trampoline mat! Featuring a bright rainbow design, it will inspire your children to create the best trampoline games on their Kahuna kids trampoline!
Whether you're replacing a torn trampoline mat or you simply want a new look, this rainbow version will delight jumpers of all ages. It has colourful sections that will encourage kids to stay active as they jump in and out of each area.
Our trampoline replacement mats feature sewn-in spring loops for convenient and safe trampoline installation. They are also made of high-quality, breathable polypropylene that reduces air resistance to give our kids trampolines maximum bounce. Plus, the mat has been hot-rolled after weaving to give it a smooth finish that won't graze or chafe the skin.
For the safest trampoline installation, use a spring attaching tool to remove or attach your mats.
Get more fun out of your kids trampoline with this rainbow trampoline mat!
Sizing:
When shopping for trampoline replacement mats, choose the trampoline size you have, not mat size you have. Please measure your mat diameter and the number of springs to be sure the mat will fit. The mat diameter is less than the trampoline diameter. Trampoline sizes are quoted in overall outside diameter which includes the frame and springs.
Measurements:
Trampoline size: 6ft (1.82m) using 135mm springs / Mat Diameter: 142cm / Spring loops: 36
Trampoline size: 8ft (2.44m) using 135mm springs / Mat Diameter: 202cm / Spring loops: 48
Trampoline size: 10ft (3.05m) using 135mm springs / Mat Diameter: 264cm / Spring loops: 64
Trampoline size: 12ft (3.66m) using 165mm springs / Mat Diameter: 317cm / Spring loops: 72
Trampoline size: 13ft (3.96m) using 165mm springs / Mat Diameter: 350cm / Spring loops: 84
Trampoline size: 14ft (4.27m) using 165mm springs / Mat Diameter: 380cm / Spring loops: 96
Trampoline size: 15ft (4.57m) using 165mm springs / Mat Diameter: 410cm / Spring loops: 108
Trampoline size: 16ft (4.87m) using 178mm springs / Mat Diameter: 433cm / Spring loops: 108
Features:
Anti Graze Trampoline Mat
High strength polypropylene
Breathable fabric
8 row stitching
Contents:
product code:tra-mat-rnb