Trampoline replacement mat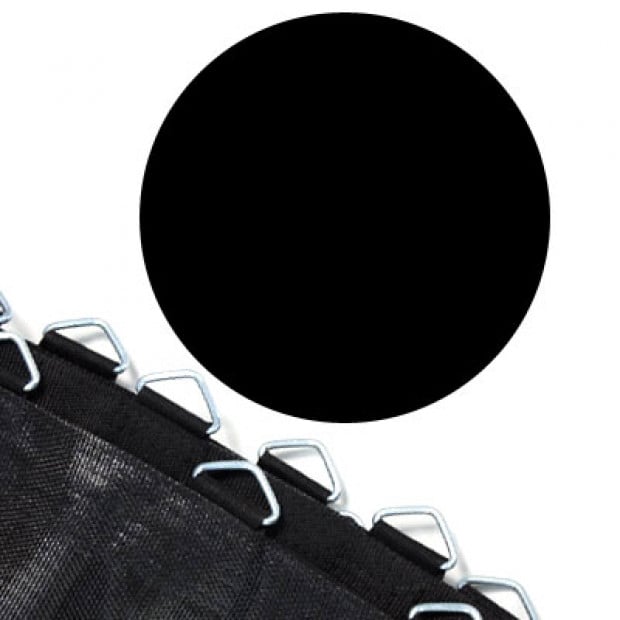 Quality trampoline replacement mats
One of the most important elements of the trampoline is, of course, the jumping mat. If your mat has any holes or tears or if you feel it has been damaged by years of sunlight exposure, it's time for a new one. Save a fortune by repairing your current trampoline with this new replacement mat instead of replacing it. Our mats are amazing quality and incredible value for money. This sale is for a mat only, and no other items are included. The mat includes the built-in spring loops, as shown in the pictures.
These trampoline replacement mats use the highest strength polypropylene fabric. This gives greater durability while still allowing the mat to 'breathe'. The design greatly reduces air resistance, especially on the rebound. Cheaper mats of lower grade material can only achieve the required strength by using a denser weave. The downside to their design is the dramatic increase in air resistance, and the mat acts as a large 'sail' on the rebound, which greatly reduces the rebound force. These mats are also hot-rolled after weaving to give the mat a smooth feel. This reduces the skin-grazing effect experienced on most other trampoline mats.
Features:
Anti-graze trampoline mat
High-strength polypropylene
Breathable fabric
8-row stitching
Sizing:
When shopping for trampoline replacement mats, choose the trampoline size you have, not mat size you have. Please measure your mat diameter and the number of springs to be sure the mat will fit. The mat diameter is less than the trampoline diameter. Trampoline sizes are quoted in overall outside diameter which includes the frame and springs.
Measurements:
Trampoline size: 6ft (1.82m) using 135mm springs Mat Diameter: 142cm Spring loops: 36
Trampoline size: 8ft (2.44m) using 135mm springs Mat Diameter: 202cm Spring loops: 48
Trampoline size: 10ft (3.05m) using 135mm springs Mat Diameter: 264cm Spring loops: 64
Trampoline size: 12ft (3.66m) using 165mm springs Mat Diameter: 317cm Spring loops: 72
Trampoline size: 13ft (3.96m) using 165mm springs Mat Diameter: 350cm Spring loops: 84
Trampoline size: 14ft (4.27m) using 165mm springs Mat Diameter: 380cm Spring loops: 96
Trampoline size: 15ft (4.57m) using 165mm springs Mat Diameter: 410cm Spring loops: 108
Trampoline size: 16ft (4.87m) using 178mm springs Mat Diameter: 433cm Spring loops: 108
Features:
Anti Graze Trampoline Mat
High strength polypropylene
Breathable fabric
8 row stitching
product code:trp-mat-spr

CUSTOMER PRODUCT REVIEWS
GR
GOOD SELLER PROMPT DELIVERY
CO
Great Item fast postage
GA
Item as described Happy with the purchase