Diesel 418cc Electric Start Stationary Motor 10HP Engine - 25.4mm Q Shaft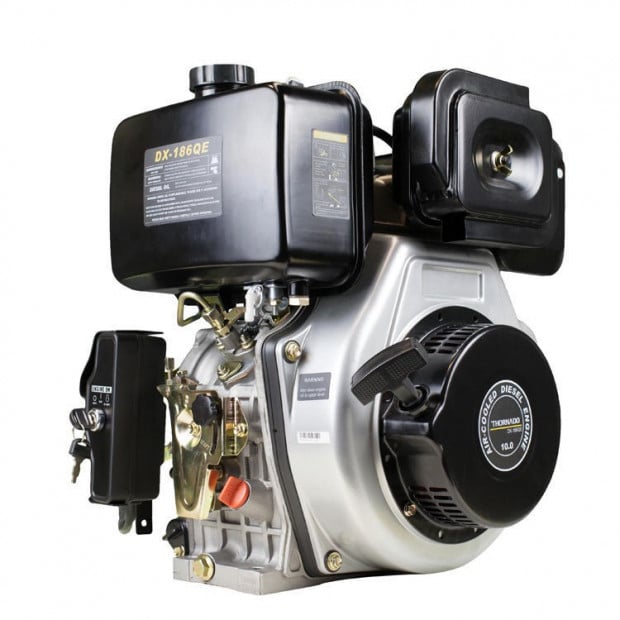 The Thornado 10HP diesel engine is a 4-stroke, single cylinder forced air-cooled engine with a electric starter that makes it easy to get the equipment running and on task. The engine is coupled with a horizontal key shaft of 25.4mm diameter.
The Thornado 10HP diesel engine is designed and built with all high quality parts that make the engine very durable and better than most of the available brands on the market nowadays. Highly efficient, the Thornado 10HP engine has multiple uses because of its small size, its light weight, and its portability. The Thornado 10HP engine seems to be the perfect solution using in variety of applications including water pumps, Go-karts, generator, Chippers, Pressure Washers, Bench saws & other Agricultural uses.
Features:
Type - Single cylinder 4 stroke, forced air cooled
Displacement - 418cc
Bore x Stroke - 86 x 72
Continuous HP / Rpm - 9HP / 3000 Rpm
Max Power HP / Rpm - 10 HP / 3600 Rpm
Combustion System - Direct Injection
Shaft Type - Horizontal Key Shaft (Q Type)
Shaft Diameter - 25.4mm
Shaft Length - 72.2mm
Shaft Rotation - Anti clockwise from output
Compression Ratio 19:1
Fuel Type - Diesel
Oil Type - SAE10w-30 / SAE15w-40
Fuel Tank Capacity - 5.5L
Oil Capacity - 1.6L;
Starting System - Electric start / Recoil manual start
Dimension (L x W x H) - 420 x 424 x495 mm
Dry Weight - 50kg
Powered by Thornado 10HP, single cylinder 4 stroke air cooled engine
Electric key start with dedicated control box
25.4mm horizontal key shaft
Smooth running with minimal vibration
High power to weight ratio
12 Months Australia Warranty
product code:38_dx-186qe