Pool Cover and Roller 12 x 6.4m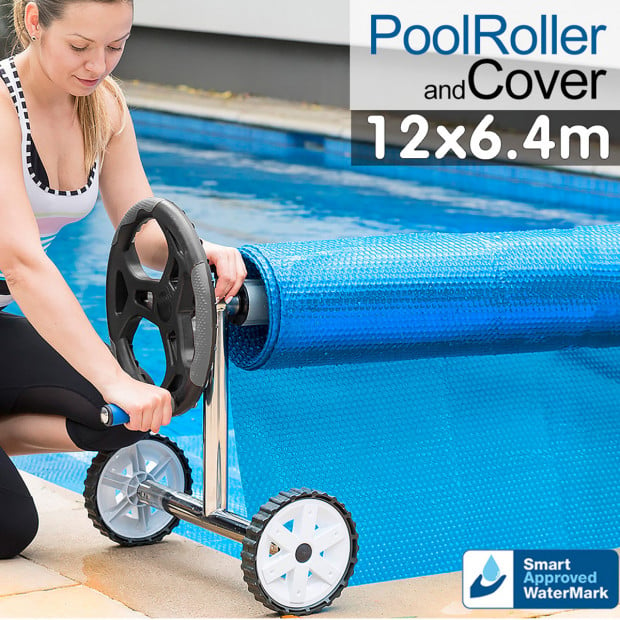 Notify me when this product is in stock
Save money and the environment with swimming pool solar covers and rollers.
These telescopic rollers extend up to 6.7m and are supplied with the wheels, the straps, and the clips to connect to your cover.

The legs are stainless steel, and the telescopic tube is aluminium, this ensures the unit will not rust or corrode in the weather or from salt or chlorine.
Supplied new in the box, assembly is required.
Roller Specifications:
Approx dimensions:
Roller diameter: 80mm
Winder diameter: 35cm
Beam ground clearance: 40cm
Overall width at wheels: 60cm
Height to top of winder: 63cm
Cover Specifications:
Size: 12 x 6.4m
Increase temperature by 4-6 degrees
Reduce overnight heat loss
Prevent indoor condensation
Reduce water evaporation by over 97%
Save over 50% on chemical costs
Blocks leaves and dirt
These heavy duty covers are made from the highest quality 400 micron material which is salt, chlorine and sunproof.

Delivery or pickup:
We will ship these directly to your door by fast road freight courier or you can collect from one of our warehouses:



product code:roll12x6

CUSTOMER PRODUCT REVIEWS
BR
Very happy easy to assemble good quality
JO
Great seller will buy again
TR
Arrived 12th May, still have to assembly the item.