Novawin Electric Winch - 3000lbs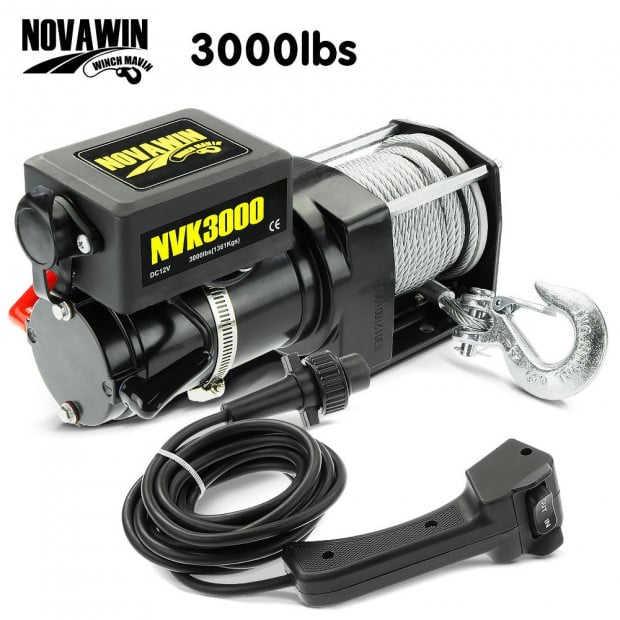 Performance and reliability at a sensible price point.
The perfect option for people seeking affordable winch options that deliver great performance and are backed by an industry leading name. This winch is an excellent choice for general load-moving either standard mounting or work site,either forward on front bumper or backward on rear.
Built up with high quality material such as high tensile steel cable and winch housing this unit will surely impress.
Features:
Easy operated free spool knob.
Tough material protect gear assembly from abrasion and wear.
Galvanized air-craft wire rope guarantees minimum breaking strength.
Single line pull capacity.
Compact dimension suites almost all models
Rated line pull: 3000lbs(1361kgs)
Motor(permanent magnet): DC 12V
Input 3.9hp/2.9kW
Output 1.34hp/1kW
Gear train: 1 stage planetary
Gear ratio: 153:1
Line Speed: 1.2m / minute
Clutch:Sliding gear
Braking action: Dynamic brake
Fairlead: 4-way roller fairlead
Wire rope: 4.8mm×14m
Drum size: 31.5mm×73mm
Dimensions: 304mm×110mm×108mm
Bolt pattern: 3.13in (79.5mm)
In The Box:
1 x Novawin Winch
1 x Controller
1 X Fairlead Roller
1 x Hook
1 x Strap
Cable Ties
1 x Instructions Manual
product code:22_nvk3000