Powertrain Multi-Station Home Gym with Preacher Curl Bench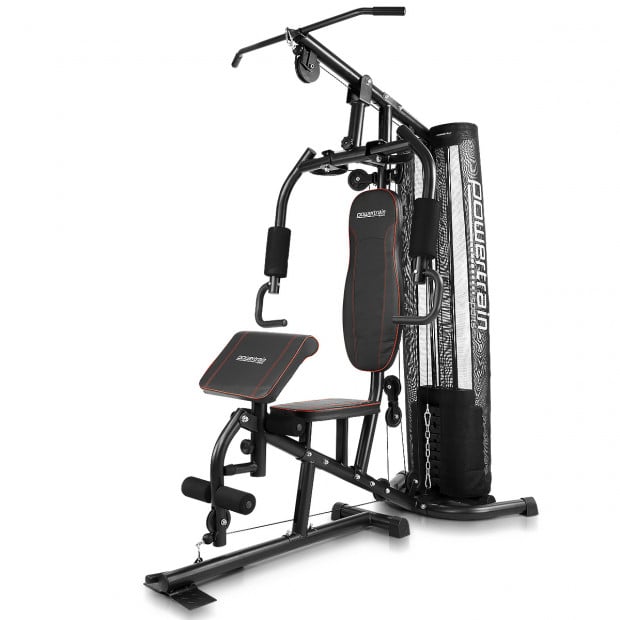 Notify me when this product is in stock
By subscribing you agree to our
Terms and Privacy Policy
and to receive marketing communications from which you can opt-out of at any time.
The ultimate multi-station home gym: Ideal for your very own personal home gym.
With this one station you can do arm/chest rowing, pec deck, knee raises, biceps preacher curls, wrist curls, leg curls, leg extensions, arm pullovers, lat pulls, butterfly flyes,and vertical bench presses
It's sturdy design makes it durable and padding is designed to keep you comfortable. Built to last from heavy gauge powder-coated steel, this attractive multi station home gym from PowerTrain will make your home gym look like the real deal.
Please note: This item can only be shipped to a postal address, NOT a P.O box. Please ensure your address details, complete with contact number, are updated in your account. Courier may require your assistance unloading from the vehicle. Our couriers deliver to the building entrance only.
Features:
Preacher Curls station
Arm / chest rowing
Wrist curls
Leg curls
Leg extensions
Triceps pressdown
Lat pull downs
Pec decs
100lbs weight included
Station dimensions: 210*172*105cm
Maximum User Weight: 200kg
In The Box:
1 x Multi home gym station
Weights Rack - 45kg
Carton Dimensions
Carton1: 176 x 42 x 19 - 21kg
Carton2: 131 x 44 x 20 - 21kg
Carton3: 108 x 35 x 21 - 23.8kg
Carton4: 38 x 18 x 21 - 23.8kg
Carton5: 38 x 18 x 26 - 23.5kg
product code:hgm-mtr-080-045

CUSTOMER PRODUCT REVIEWS
SI
Good quality and good price. Seller is very helpful. Very happy.
MA
Great doing business with you
SA
I recommend this seller based on my experience
AA
Great set-up at a low price. Sellers communication was fast and friendly. Thanks