GIANTZ 540W Premium Air Compressor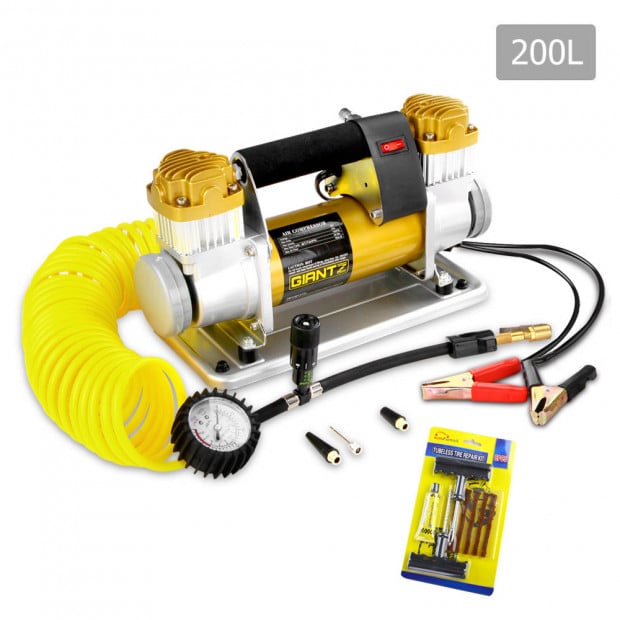 Featuring a high quality air compressor with a solid built and design, this GIANTZ Premium Air Compressor can inflate a flat tyre and return you back on your journey in no time.
With a working capacity of 200PSI 200L per minute, it can inflate a 4WD tyre in less than 60 seconds! Equipped with a precise deflation valve allowing efficient deflation and inflation pre-setting. It also comes with 3 additional multi-purpose head attachments for extra functionality.
Features:
Heavy duty 2M power cord with safety fuse
Convenient handle design for easy transportation
Top quality NPT fittings; leakage free
Accurate dual pressure gauge
Power overload protection
Smart and easy snap on air outlet
Auto reset thermal protection
Precise deflation valve for inflation and deflation pre-setting
Comes with 3 additional multi-purpose head attachments
Comes with a durable carry bag
Bonus 1 x tyre plug kit for handy tyre repair
Motor type: Permanent magnetic
Power: 540W
Max. air flow: 200L/min
Voltage: 12-13.8V
Max. amperage draw: 45A
Working pressure: 10BAR/150PSI
Max. restart pressure: 200PSI
Max. ambient temp: 60°C
Min. ambient temp: -55°C
Hose fittings: 1/4" NPT
Hose length: 7.5m
Colour: Golden
Size: 34.5x14x19cm
Recommended duty cycle: 30 min @ 2.8 BAR (40psi) @ 24°C (72°F)
In The Box:
1 x GIANTZ Premium Air Compressor
2 x Alligator Clamp
3 x Bonus Head Attachment
1 x Deflation Valve
1 x Tyre Plug Kit
1 x Carry Bag
product code:3_ac-200l-gd